Final Lap of Preparation for the Campaign against Early and Forced Marriage
Submitted by

admin

on Mon, 08/17/2015 - 09:04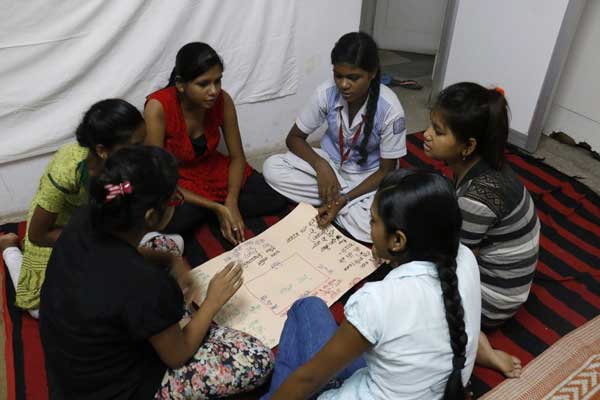 We have entered an intense and energetic fourth phase of the project on Early and Forced Marriage (EFM). This is a preparatory phase for the campaign against Early and Forced Marriage led by the group of 30 participating girls (participants of the EFM) from low-income urban communities in South Delhi. In the earlier three phases, girls learnt the technical skills of photography and filmmaking from our media trainer Ms Pooja Pant, a renowned documentary filmmaker who also heads Voices of Women Media (VOW) in Kathmandu, Nepal. Along with the technical skills, the girls have been involved in discussions and workshops (both internal and external) about building conceptual clarity around the topic of EFM.
This phase of the project is extremely crucial as the girls are now learning to articulate their argument against EFM through a short documentary film (which will be filmed by them) and initiating the discussion in their community about the same. FAT has been working with this group of 30 girls for over a year now,  initially they were the participants of the Tech Center's (Technical Center) program during which they learnt basic computer skills and applications, interspersed with discussions on various feminist issues like gender discrimination, patriarchy, feminism, rights, choice, agency and decision making. The participating girls underwent series of workshops to develop conceptual clarity on issues of Early and Forced Marriage; these workshops were facilitated by FAT's team as well as external resource persons. The girls will now take this understanding to the communities through the medium of a campaign; media products comprising of a film, radio show and photo book made by the girls will be taken to a larger audience to build a national and international dialogue around the concept of choice and agency in the institution of marriage.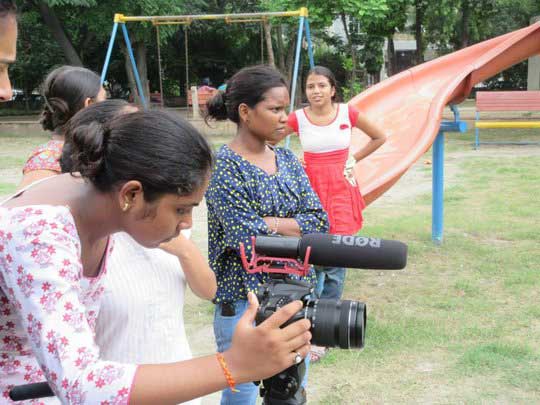 There have been a series of workshops on strengthening their understanding on various concepts which are interlinked with Early and Forced Marriage. In the beginning of May, a three day workshop was conducted by Nandini Rao, an external resource person whose expertise lies in the area of gender training. A women's rights activist herself, the girls thoroughly enjoyed interacting with her and brainstorming on several campaign ideas. Four key components linked to EFM emerged during this workshop, namely health, education, sexuality and labor. These components will form basis for photo stories, where EFM girls will be involved in clicking photographs on these four topics that will turn into a photo book.
In the month of July, there were more workshops with the participants of EFM facilitated by Nandini Rao. This time the purpose was to prepare girls for articulating key messages related to Early and Forced Marriage during the campaign, through songs, posters, street-plays and pictures. Our main target audience for the campaign is the families and communities of our participating girls to create awareness about the agency and decision-making of their daughters over their lives.  This month girls were also involved in preparation of filming the documentary which will be used as a tool for generating discussions in their respective communities. The film will be screened in seven different communities that FAT works with, besides neighborhood screenings by the participating girls.
Girls and young women often face the pressure of marriage after they reach a certain age and they are forced to get married even if it is not their choice, and most of the times it's the families who have to be negotiated with. In FAT, after a lot of discussions between participating girls, FAT's team, Nandini and Pooja, we decided to bring out a positive message about EFM in the communities where it does not feel that we are revolting against the institution of marriage, but are negotiating to have an agency and consent in the decision making regarding marriage. The girls are in the process of developing the final campaign materials to be used for the offline campaign in the communities.
In the meanwhile, our two interns of the project- Deepika Passi and Renu Arya, and EFM participant-Varsha got the opportunity to attend a gender workshop in Himachal Pradesh. This gender workshop was followed by self defense training on Wenlido. Girls were thrilled to be a part of this and it was a major boost to their confidence. There was a huge transformation in Varsha and she became a lot more confident. Observing her zeal and boosted confidence, Varsha was given an opportunity to do internship in the Tech Center. She has a talent for teaching computers and FAT provided her the space to hone her skills by teaching computer to the adolescent girls of the Tech Center. Following this, one of our interns and EFM participant Jyoti participated in a two day self defense training within Delhi. This was an  enriching experience for her as it was the first time that she had participated alone and represented FAT.
FAT is thriving with activities while gearing up for the campaign. The activities will increase once the campaign commences. There is a major element of online campaign where we seek everyone's support. We will constantly update our website on the activities that the budding young feminist leaders are engaging in. And yes! A new website is also coming up! So stay tuned!