Introducing FAT's 2016 Young Women's Leadership Program Fellows
Submitted by

gayatri

on Sun, 09/25/2016 - 10:33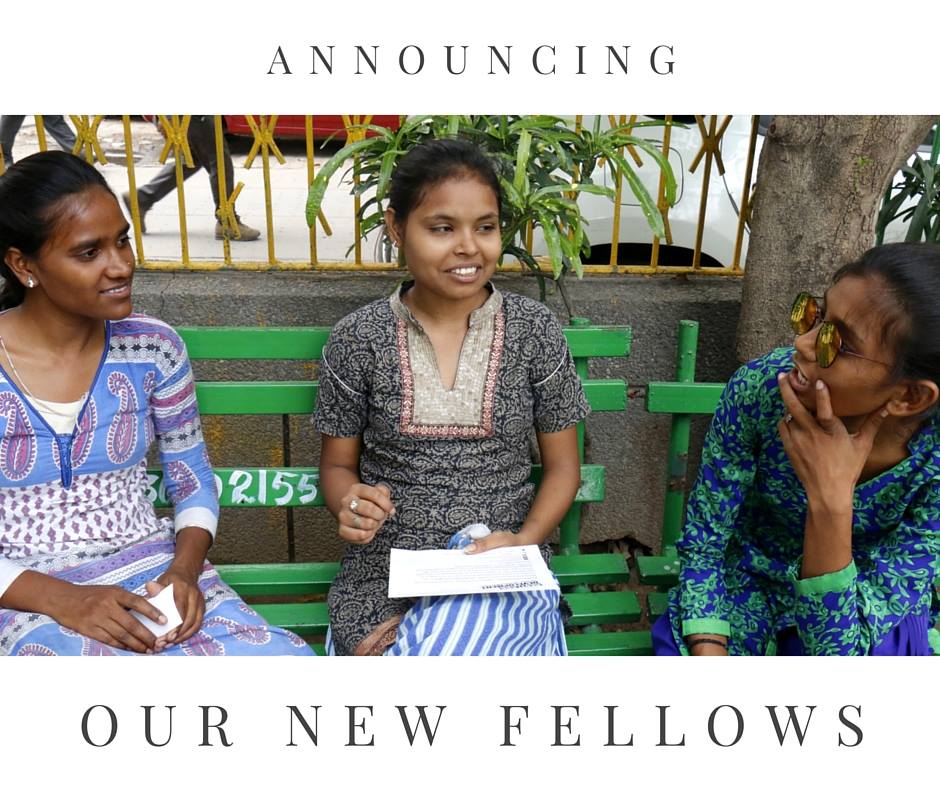 The stages of leadership development in our Young Women's Leadership Program his divided into 4 levels.
While not every girl is required to complete each level of leadership training, the few who do, emerge and young women leaders actively working within their community for social change. In the 3rd level of leadership training, selected girls get opportunity to run their own mini-projects within ther communities as a fellow of the program. This year, a total 5 participants volunteered and submitted their concept notes on project ideas for the fellowship opportunity, out of which 3 were selected. The 3 final selects are Summi Khatoon, Preeti Kumari and Simran Kumari. 
Summi Khatoon, a 15 year old Muslim girl started coming to FAT two years ago. Full of curiosity she could connect with anyone with her beautiful smile and her frankness. She once said, 'My curiosity is what keeps me going. I want to know everything in the world.' She has completed Level 1 and 2 of the Young Women's Leadership Program (YWLP) and is currently in the level 3. She has been an active campaigner in the Early and Forced Marriage (EFM) campaign. This year, in 2016, she has begun doing a fellowship along with continuing the second phase of the EFM campaign. She is working in a community in south Delhi predominantly inhabited by Muslims. Most of the girls from that community are forced to discontinue their schooling and their mobility is very restricted. Since Summi has faced similar restrictions she feels a personal connect with the girls. She wants to facilitate workshops with at least 10 Muslim girls (who have dropped out of education), between the age of 15-20 years, to build their understanding on gender and patriarchy and its linkages with education. She wants the girls to understand why their education is restricted? What stops them from achieving their dreams? 
Preeti Kumari has been associated with FAT for 3 years. She started coming to the Tech Center with her sister in 2013. Though her sister discontinued her journey in FAT in a year, Preeti's journey still continues. She has completed the first two levels of YWLP and has been part of both the campaigns - Apna Haq and EFM. Preeti comes from Zamrudpur which is one of the areas that FAT works in. It's a long walk from her home to FAT but that never deterred Preeti from not coming for the classes. An introvert by nature, she has never spoken much about her life and experiences but she has a certain determination to do things. In 2016, Preeti is doing a fellowship along with continuing the second phase of the EFM campaign. Preeti wants to work in urban poor areas around Lajpat Nagar, South Delhi to make an intervention with child laborers or street children (vulnerable to become child labourers), between the age of 10 to 14. She wants to encourage them to continue their education and teach them basic language and maths. In her way from home to tech center, Preeti often saw children working in shops, hotels and houses. She felt a personal connect with the children as when she was 12, her mother forced her to work to earn money and support the family. Preeti struggled to keep her education going. She wants the children to understand the importance of education, see it as their right and thus continue their school education.
Simran Kumari came to FAT in 2013 for a month but had to discontinue because of family troubles. She joined the Level 1 classes in 2015. Although she was learning computer, Simran had a keen interest in photography. She became part of the EFM campaign. Her interest in photography gave her opportunity to photo document the OBR event for Azad Foundation after she finished the first phase of the campaign in FAT. In 2016, Simran is doing a fellowship along with continuing the second phase of the EFM campaign. Simran will be working in three urban slums around Lajpat Nagar area in South Delhi to capture the stories of the girls who earn and how & why their choices are still compromised. Simran got the idea of this fellowship through her sister. Whatever she earned, she would give it to her mother to support the family. Even after marriage her situation did not improve. She thinks of family's needs before her own. Simran wants to understand "Is becoming financially independent really possible for women or they always have to compromise their needs?" She wants to capture 5 such stories of married or unmarried women and how their choices are compromised.
It is amazing to see the enthusiasm of these young women fellows, the maturity with which they handle their daily life crisis and the energy that they want to put in their dreams. Over the last 3 months of their fellowship period, the fellows have gone through many training and received mentorship from FAT's team members to plan and implement their projects.
Simran has already found 5 participants who have shared their stories. For Summi, it has been difficult to get sustained participation of 10 muslim girls for the workshops she has planned. Only 4-5 girls attend the sessions regularly, but there is a constant risk of them falling out due to their responsibilities in their house. For Preeti, finding participants has been most difficult as child labors are  a very vulnerable and mobile group which does not have spare time because it is expected of them to earn some money by working throughout the day. Preeti has finally approached an organization, with FAT's support, that runs centers for street children and has requested them to allow her a time slot to teach the children. She is in the process of doing a need assessment with the children to re-plan her curriculum.  
An evident outcome, seen in the fellows, is their openness to learn new things and handle difficult situations. All the three fellows have gone beyond the planning in their projects to do actions which show their leadership skills and their enthusiasm to grow as young feminist leaders. Preeti, while looking for child laborers to work with, came across a child who wanted to study but had to discontinue his education due to some family crisis. Preeti decided to help him get enrolled in class 6. She had no prior experience of this, still she confidently walked into the principal's office of a government school and asked her about the process of enrollment. The Principal, with much reluctance, finally helped Preeti get the boy enrolled on the condition that the boy would never eat tobacco. She got another girl enrolled in class 11. She felt extremely confident and happy to be successful in doing this on her own. 
When Summi went in the field to find the girls with whom she could organize workshops, she faced a lot of difficulty in even meeting them once, let alone getting them to a common space for the workshops. One of the girls interetsed in participating in her project took her to meet her mother. As Summi explained what she aims to do, the mother stated a condition that she would allow her daughter to participate in the workshop only if it is conducted in her house. Summi was very strategic in agreeing to the condition, provided the mother would help her bring together 9 more girls from the community. Thus, she had successfully mobilized 10 of her participants. 
Simran says, "Main aajkal har cheez absorb karne ki koshish karti hoon." (These days I try to absorb everything around me). She shared that she very keenly heard a discussion that was happening in FAT office between team members on the dilemma between 'saving money for self' or 'giving to family for support'. She thought a lot about it and reflected that she has always given all her money to the family and has never thought about herself. But this time when she got her first stipend, she kept 1000 for herself. When her mother asked her the reason, she said I need the money for myself for the same reason for which other people need it for themselves.
It's really encouraging to see these girls working beyond their projects exemplifying real leadership skills and emerging as young women leaders. Just like Summi, Preeti and Simran, so many girls around are waiting for their enthusiasm to be unleashed and FAT is working rigorously in that direction.