The little innovators' visit to Cherry Comet Instant Ice-cream
Submitted by

gayatri

on Wed, 11/02/2016 - 10:05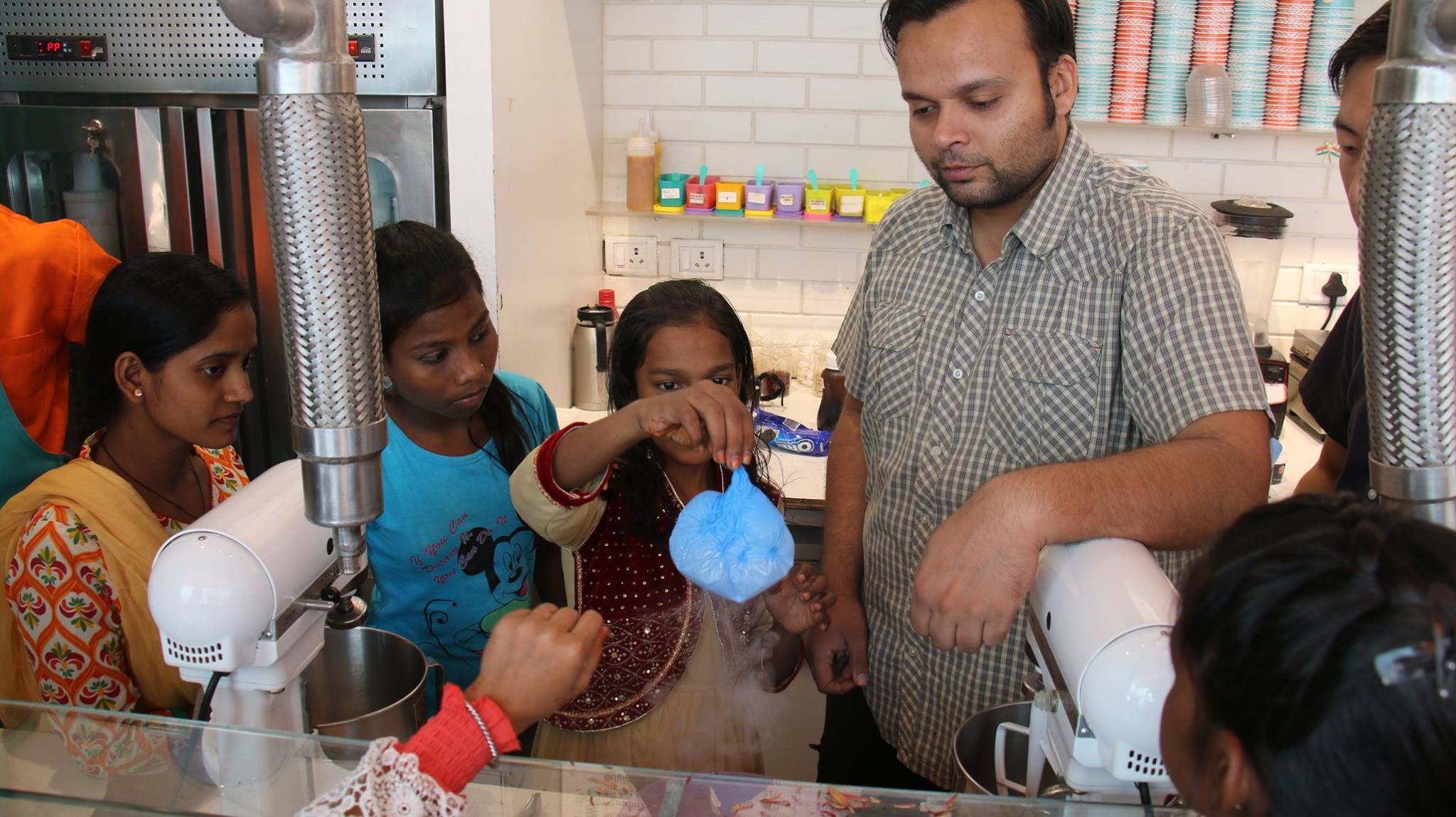 That day, I was before time and surprisingly, the Jugaad Lab girls had reached even before me.  Though we were expecting a total of 17, 13 girls were there. It was 23rd October, 2016, when these little engineers had gathered for their exposure visit to Cherry Comet Instant Ice-cream to learn about the technology behind ice-cream making. FAT's office was filled with girls' excitement; they were even wearing new clothes especially for the visit; helping each other getting ready, doing each other's hair and discussing the questions they will ask at the ice-cream factory. Finally at 10:30 am, with a group of 33 girls from Jugaad Lab and Young Women's Leaders Program, we started our journey towards Gurgaon, to the retail outlet of Cherry Comet.
As soon as the girls boarded the bus, their picnic started. They started singing songs and their singing made the journey even more joyful. As we were about to enter Gurgaon, they happened to see an airplane landing for the first time. Moving a little ahead, they saw a helicopter standing in its hanger and the runway where planes were landing and taking off. They had got quite curious to know things like, how many people this airplane can accommodate, how does it land and take off with such a huge size, how can one sit in it etc.
With the same level of excitement, we reached DLF Cyber Hub, Gurgaon. The mall was beautifully decorated because of Diwali. Huge lights, diyas, bombs, colorful confetti, flags all around; it seemed like a dream land for girls. They had never been to such a place before. One of the girls, Rajrani asked me "Didi, food at this place must be too expensive. We buy a roti for Rs. 2 at our place. For a cost of one roti here, my whole family can have one time's meal." The innocence in her words made me think and question how we prioritise our needs and utilise our resources. From fancy restaurants to glass buildings, with each new thing that they would come across, the list of questions would get longer and longer.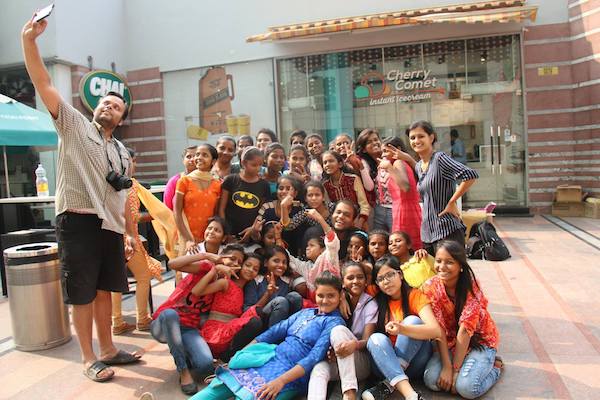 After rounds of coordination and calls, we finally reached Cherry Comet. Saaransh and Andy, two of the three founders of the ice-cream outlet, were standing there to welcome us. They took us inside the Ice cream parlor to show the technology behind ice-cream making. We divided ourselves in three batches of 11. Batch wise, Saaransh and Andy started demonstrating the properties of liquid nitrogen through experiments. He explained that at -200 degrees celsius, nitrogen gas is compressed into its liquid state. At such a low temperature it can convert anything into a solid brittle state. He started by putting a flower in liquid nitrogen which came out rock hard. They experimented with a balloon, Oreo biscuit and chocolate to explain how liquid nitrogen eases down the process of cooling. At the end they added ice-cream mixture to it, which came out ice cold and was served to girls. The girls diligently understood the technology and started joking around with Saaransh and Andy to put their fingers in liquid nitrogen and that would also come out rock solid.
The girls were amused to see the uses of liquid nitrogen. They knew the refrigerator to be the only source of cooling things or making ice-creams. They had learnt that liquid nitrogen can also be used for the purpose.
Soon after the experiments, out of curiosity, girls started throwing questions at both the owners. They asked them about various things like where do they get this nitrogen from, what do they do when they run out of it, do they extract it from air, etc. Both Saaransh and Andy patiently explained to the girls that they bring nitrogen from a factory in Manesar where they extract it from air at a particular temperature. It seemed like a rapid fire round. I was amazed to see the depth of their questions. They wanted to know from where did these men learn this technique, whether they have taught their staff or is it the other way around, what's their business model, how much profit do they make, how much electricity do they use, why have they opened the store here in Gurgaon only, would Cherry Comet ever come in their locality, do they have any backup plans in case their business fails and so on. Saaransh told them that they learnt this technique from internet and taught their staff to set up this business.
The girls had pretty much opened up with Saaransh and Andy; so much so, that it didn't seem like their first meeting. Rajrani was very keen to know about their business model and wanted to know everything about it, from the meaning of Cherry Comet to how do they sell their ice-cream in such stiff competition. She even suggested them to put a statue of a man making ice cream from liquid nitrogen, so that the passerby's get an idea about what happens inside cherry comet. When asked where have they come from, girls would very beautifully explain what FAT does and how are they associated with FAT.
We often tend to ignore minute add-ons while reading or listening; however, these girls from Jugaad Lab had an eagle's eye to everything they were being exposed to at Cherry Comet. They were one bag full of curiosity and questions.
At the end of the visit, Saaransh made the girls recall what all they had learnt by asking them random questions about the process. He was very impressed with the intelligence of these girls. He shared that many school students have visited their outlet but these girls have a passion of another level. Saaransh and Andy even wished to contribute towards STEM education of girls in any other way possible and opened up to host more girls for another exposure visit
It was a new learning experience for me; one where I not only learnt the science of liquid nitrogen but also about the eye for detail and level of curiosity the girls have.
~ Aakriti
(This blog has been translated/ written by Harvinder Kaur who handles Communications and Social Media at FAT)